Miami Executive Matchmaker and Marriage Agency
Love International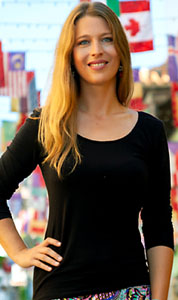 Maria - Executive Matchmaker Miami
Matchmaking is an art and science. A person needs skills, intuition, a wide network, and relevant experience before they can call themselves a professional matchmaker. Aside from that, there are countless benefits to hiring a professional. For one, they make your journey to finding love hassle-free, memorable, and enjoyable.
If you're looking for a high-end international matchmaker in Miami, we can help you.
Since 1995, Love International and the AFA Network have helped singles find love. With over 26 years of professional matchmaking experience, our dedicated team is ready to help you find your perfect partner.
We have professional matchmakers and staff members in 20 countries spanning four continents worldwide. With an extensive network, knowledgeable team of professionals, and unrivaled years of experience in the dating industry, rest assured that you are in good hands.
Moreover, our worldwide operation has helped singles from around the world to meet each other and start their own international love story. Most have ended up in successful marriages. What are you waiting for?
Inquire about our Miami dating service and experience elite international matchmaking like no other. Find the love you deserve.
Call Maria today at: +1 (786) 780-1990
Or corporate office at +1 602 539 8000
Toll Free North America: +1 (844) 522-9864
Love International Members
Below you will find some of our members' profiles. We always respect members' privacy. Members shown have given their specific permission to have their profile visible on our site. These profiles are just a small example of the tens of thousands we add to our system each year.